Are you making plans for prom? Prom is a night for a young woman to get dressed up and look, feel and be beautiful. Whether you're headed to prom with a date or with friends, it can be a night to do something special and have fun with those around you.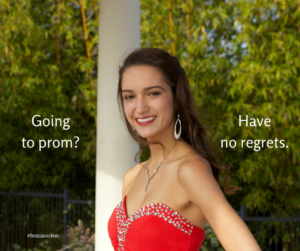 While you're doing your nails and your hair and putting on your fancy dress, take a few moments to think about what really makes you beautiful. Is it your nice dress, makeup and hair or is it who you are on the inside?
As women, we like to feel beautiful. And it can be a lot of fun to spend the afternoon getting everything ready. But at the end of the night, what really matters?
Your dress and your figure might get you a date. And how you act or dress could get you noticed. But, while being noticed feels nice, deep down, you want to be valued for who you are as a person – not used as someone's eye candy or plaything.
If you want to be cherished for the value you carry on the inside, consider these five things as you prepare for prom:
Be kind. Be kind to your date and to your friends. But also be kind to the person you've only passed in the hallway, that girl you don't really even like or the guy who is not popular. Kindness wins friends. It says that you are a person of beauty who values other people and isn't only kind to get what you can get.
Consider how you dress. If you're not comfortable with what your dress reveals, consider what you could pair with it to cover what you want covered. Do you want to be seen as an object to be used? Or do you want a guy to have a conversation with you, valuing who you are on the inside?
Stay away from drugs and alcohol. You want to remember this night and to have it be special. Drinking or doing drugs make it less likely that you'll remember what happened – and they make it harder for you to make the decisions you want to make.
Pre-decide your boundaries. It's much easier to stick to a decision you made earlier – when your emotions and hormones were not involved – than to make your best decision in the heat of the moment. Check out 7 Reasons to Not Have Sex on Valentine's Day. The same things are good to consider before prom.
Stay safe. Ride with people you know and trust. Don't ride with anyone who has been drinking. Don't let someone (even your date) pressure you into going somewhere you don't want to go or doing things you don't want to do.
Overall, do things you won't regret next week – or next year. Make decisions so that it really is a night you look back on as a night that was fun. A night where you were living as the beautiful person you want to be. And then enjoy getting dressed up, dancing and having fun with the people around you.
Feel like it's too late for you? Get in touch with us to meet with someone about developing healthy relationships or to get tested for STDs or pregnancy. We offer pregnancy testing and STD testing for women in Madison, Wisconsin — free of charge.