Wondering what you can do to keep your baby safe?
Start by following these six safety tips. (These tips are recommended by the Juvenile Products Manufacturers Association (JPMA). The JPMA sponsors Baby Safety Month each September.):
Direct supervision is a sure-fire way to prevent injury: Watch, listen and stay near your child.

Join your child on the floor to play and make some great memories!

This first rule may seem like common sense, but it is easy to get distracted in today's busy world. It may not seem like a big deal to step away for a few moments to answer a phone call. But those few seconds are all it can take for tragedy to strike.

It is very important to stay with your child and supervise him or her while he/she is bathing and playing.
Even better than simply supervising your baby as he or she plays, join him or her and make some great memories!
Choose and use age and developmentally appropriate products.

Our world is filled with electronic gadgets, but these may not always be the best choice for your child. WebMD, in an article regarding choosing the right toys, warns against falling for the latest noisy and flashy toys. While these toys may claim to be educational, electronics can shorten a child's already short attention span. These gadgets can also limit children in learning to play creatively and think independently.

Simple toys, such as blocks, encourage creative play. Photo by Jelleke Vanooteghem on Unsplash.

Simple toys are often best. Think about toys that have been around for years, such as blocks or shape sorting toys.

Remember what your child is learning or "working on" at their age when choosing toys. For instance, children ages zero to six months are working on hand-eye coordination. At this stage, toys that encourage reaching, grasping, or swiping are good choices.
Of course, safety is paramount, so be sure toys you choose are also safe for your child's age.
Read and follow all manufacturers' instructions, recommendations for use and warning labels.

Instruction manuals are not extra padding in the box! They are important documents that you need to read and adhere to for your child's safety.
Did you know that thousands of children are injured each year in their high chairs? It may seem pretty straight forward how to use a high chair, but many parents are not aware of certain risks outlined in the manual and how to properly use the high chair to prevent these risks.
Always read the manual and warning labels! (Find out more from The Center for Injury Research and Policy).
Looking to use a second-hand product? Check to see if you can get the manual (or find it online). Also be sure to check for recalls on second-hand toys and baby items.
Register your products and establish a direct line of communication with the manufacturer.

When you open the box for your baby's new crib or car seat or any new product, check for a little registration card that's probably included. These cards are very important pieces of paper.
By registering your purchase, and sending the card in to the manufacturer, you'll find out if there is a recall or other safety issue.
If children are injured or even killed related to a flaw in a car seat, you'll want to know as soon as possible to protect your child. Registering your child's products could prevent harm to him or her.
Frequently inspect products for missing hardware and for loose threads, screws and strings, as well as for holes and tears.

Children love to yank and pull at toys and try to get things apart. A toy that was safe when it was new, may now pose a choking hazard if the child can yank a piece off that has started to separate.
Toys that have loose and dangling threads or strings can also pose a choking or strangulation hazard. (Think about the fraying sweater that Teddy Bear is wearing.)
Be vigilant and if you see anything that could potentially pose a risk, pitch it.
Monitor your child's growth and development and discontinue use when needed.

Make sure that your child's toy stash changes and evolves with your child. You will want your child's development to be encouraged by his or her toys. Toys that encouraged grasping and reaching in early infancy will no longer hold your baby's attention a few months later.
At eight to 18 months, children like to experiment with shape and size. This is the time to give them those shape sorters or stacking rings.
Remember: Most injuries can be prevented!
Be sure to follow these six safety tips to keep your baby safe and developing as you desire.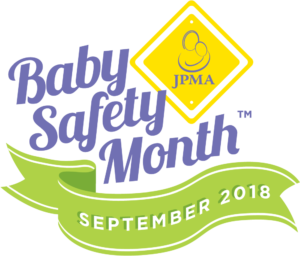 The theme for this year's Baby Safety Month "Choose and Use," reminds parents like you to choose baby and child products carefully. Choose them according to your child's ages and developmental stages. Be sure to use all toys and baby products appropriately. And then supervise your child even when you think he or she is fine. And take some time on the floor to play with your little darling.